True Key测评:专家总结
The True Key password manager is designed for those who don't rely too much on a password manager, rather ones who would just like a little bit of extra security and a place to store their sensitive data. It lacks additional features that experts would want to use, and there's no sort of team plan or business plan to get companies on board.
Regardless, True Key is one of over 70 password managers I've examined to provide you with an extensive review on if it's worth it or not. Read on to see what I think, and if this password manager is what you need for enhanced security online.
True Key Features
True Key, despite it being owned by powerhouse security company McAfee, doesn't have many features to offer. The few that it does bring with are just fine, such as two-factor authentication (2FA), multi-device sync, and a password generator. But, it's missing some key features like sharing passwords and autofill (more on this later). Let's talk about a few of those.
Multiple Sign-Ins
True Key takes great pride in having multiple forms of sign-in. While the team doesn't like its users logging in with the master password, it provides the option there for simplicity's sake. In fact, it's so important to them that the website promotes True Key's ability to "sign you in without passwords" right on the front page.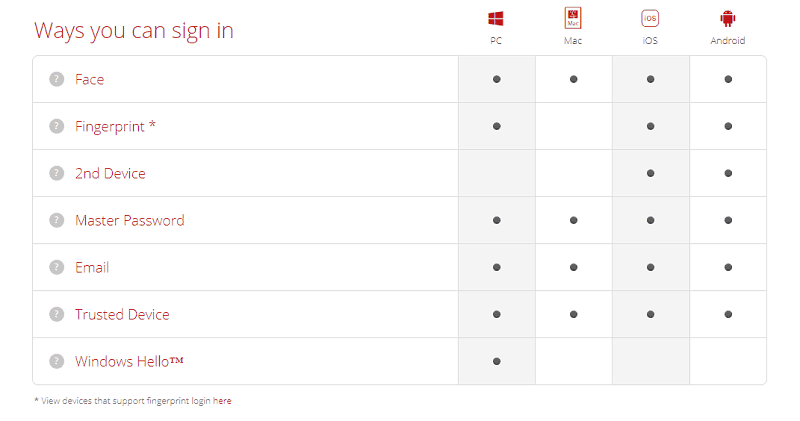 As you can imagine, these alternate forms of sign-in are available on all devices, like fingerprint login on a mobile device or facial recognition on any device with a camera. But, depending on your device, you gain access to email logins, fingerprint, facial, master password, a second device, and more.
Password Auto-Save
Then you have True Key's password auto-save feature, which is more automated than competitors like RoboForm. For example, any time you log into a website, the application will automatically save your information to be input later. There's not really anything you have to do – the app will let you know it has saved something, though you can undo it if you'd like via a pop-up bar that appears.

Password Generator
True Key's password generator is notable as well. While it isn't too different from one like 1Password's, what we have here is a powerful keyphrase generator that allows you to customize password length up to 30 characters, and has you choosing between capital letters, special characters, numbers, and more.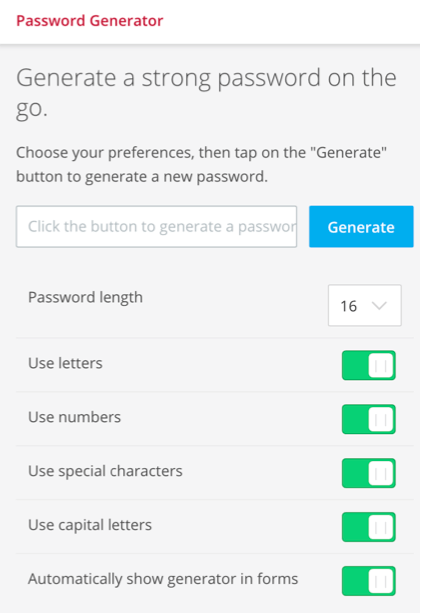 Also, after generation, the manager will automatically copy the password to your clipboard for later use. And you can check your password history within the application as well, letting you know when you've generated a specific password along with what that password is.
True Key Plans and Pricing
There isn't much in the way of True Key's plans and pricing. This is contrary to competitors like Passbolt, which has business, enterprise, and other plans that users can choose from. However, True Key only has two plans: Free and Premium.
The Free plan gives you all of the features mentioned above, though it limits you to 15 password entries. This is a great way for you to check out the platform's offerings, and helps you get used to the always online functionality.
If and when you upgrade to premium, you'll gain access to the platform but with unlimited password storage instead of just fifteen. The pricing isn't too bad for this either, so if you're a fan of True Key's free version you should feel justified upgrading.
However, make sure you really like True Key before committing. Other managers like LastPass offer extensive free plans and premium plans for all sorts of different customers. That and it isn't much more expensive, either.
True Key Password Manager Ease of Use and Setup
Similar to software like Trend Micro and Passbolt, True Key's manager is entirely online. This means it is easily accessible from any device, though it should remain secure thanks to the focus on in-person login details like facial and fingerprint recognition. You can easily get to the password manager via its browser extension, though there isn't a dedicated extension pop out like RoboForm or 1Password.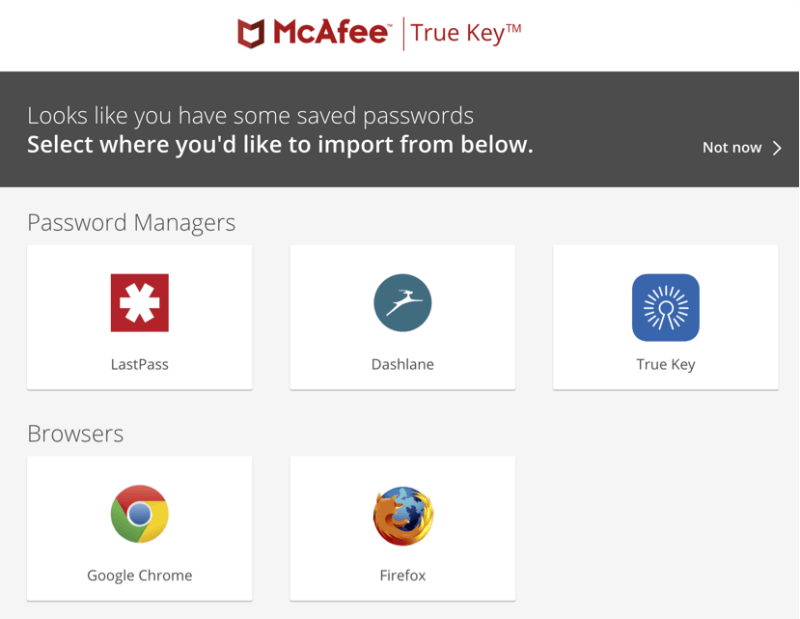 Upon sign in, you have the option to import passwords from LastPass, Dashlane, or another True Key account. That and you can import via Google Chrome or Firefox. Otherwise, you can import passwords by simply browsing around the internet or adding them manually, of course.
Passwords can be sorted in several ways: via a favorites system, alphabetically, via most used, or most recent. Unfortunately, there isn't any sort of tagging function like with 1Password, but the ones here are okay enough.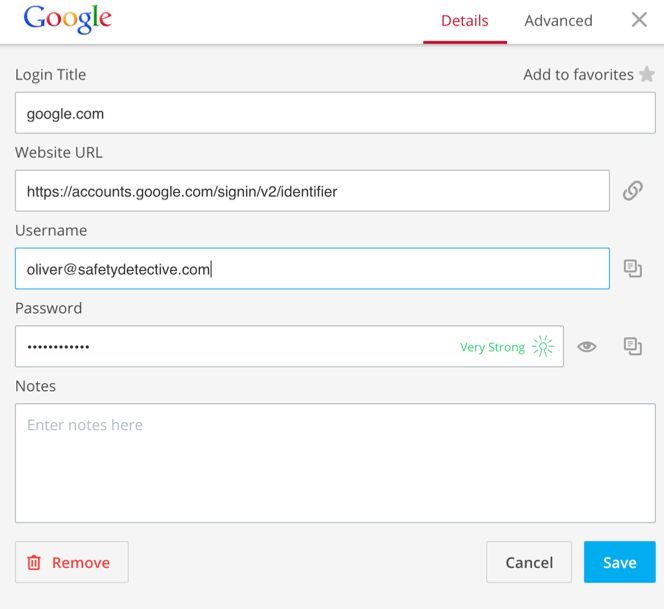 Each password entry has a few different customizable options, like notes, for example. You can go in and add a few sentences about each password and what it's used for here. Unfortunately, the application doesn't support image attachments or anything external like that. Though, there are a few features specific to True Key.
When you head to the advanced tab in an entry, you can choose to require your master password every time that entry is logged in. Or, you can toggle on the instant log-in feature, and whether or not the entry is used only for the specific domain. These are unique features not seen in many password managers, and the master password toggle is fantastic for extra security regarding your financials and more.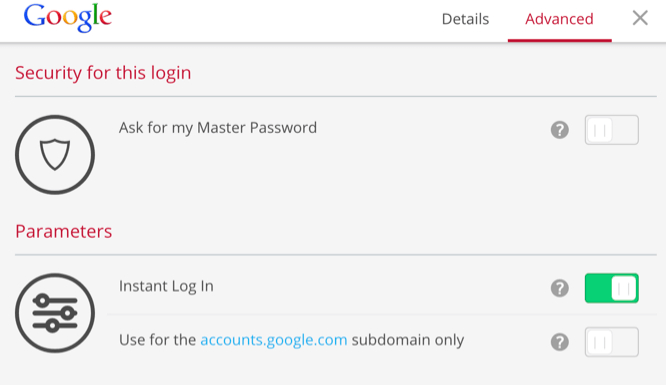 Then there's a section for safe notes. These are, just as they sound, secure notes that include a title and some details. They're protected via your master password or form of login, and while there isn't any form of third-party attachments here, it's still a good space to store text information. These secure notes have the same sorting options as passwords do.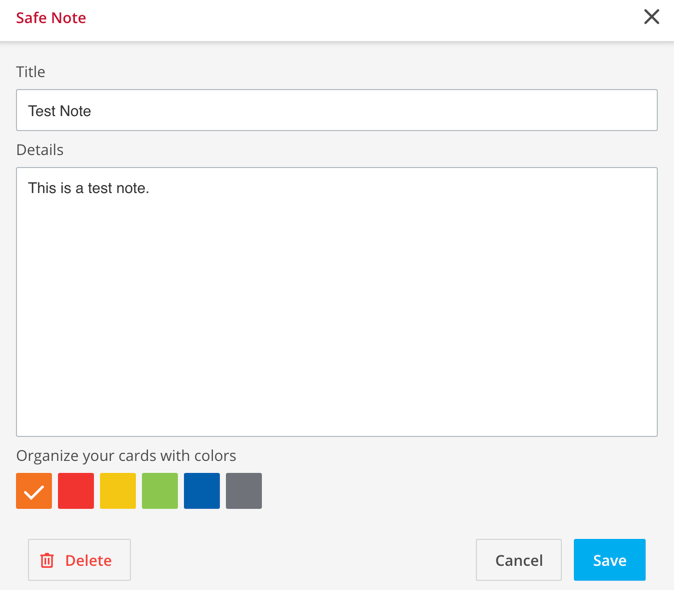 Then, like with many other password managers, there is a space is True Key for bringing in addresses, credit card information, licenses, and even your social security number. Each of these forms are full of information like names, addresses, zip codes, and more, and they have the same organizational features as the other sections.
Interestingly, your profile page is customizable as well. Here, you can change your photo, edit your master password, add a trusted device or email, and bring in another device so you can have two trusted ones for logging in. This page will also show how many logins you've taken up within the True Key manager.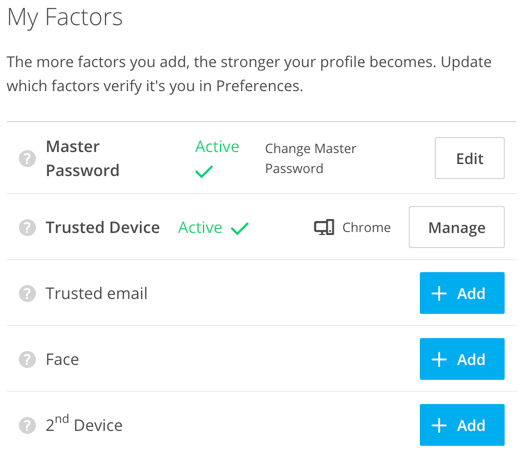 Finally, you have the settings page. This page allows you to customize when you want to be auto-signed out, change how many signin options you'd prefer (see screenshot above), allows you to export your information, and much more. It's a lot of quality of life features that other competitors don't really have.
As for True Key's mobile application, the log-in process is about the same. When you sign in, you'll have to accept an email confirming that you want this as a trusted device. Otherwise, it's laid out exactly the same as the web application. There is a couple of differences, though.
To start, the mobile application has a built-in web browser to activate instant logins and the like. That and there is a section for suggested websites that other True Key users tend to include, ensuring that popular websites aren't forgotten, here. The application doesn't allow screenshots, however, which is good for security reasons, but bad because I can't show you how it looks. The user interface is just fine, however, and you shouldn't struggle using the application.
True Key Security
True Key's security takes advantage of industry-standard AES-256 encryption to keep your information as safe as possible. This is important, as it means hackers have to use more than brute force to break into your password manager.
Also, none of your information leaves your device unless it's encrypted. That and all locally stored data is kept secure as well. One should also note that True Key's development team practices zero-knowledge protection, meaning that nobody, not even the team, will ever see your information.
Oddly enough, there isn't much other information about True Key's security. There is a short FAQ that answers some questions regarding encryption, but not much else. Also, there isn't any form of recovery options in case your device is stolen. Of course, this isn't overly necessary, since you can simply log into another device, change your password, and be done with it, but there isn't anything you can do if someone gains access to your information. This is a big oversight that 1Password and others have covered with emergency options.
True Key Customer Support
When compared to other password managers, True Key's level of support is about standard. There is a decent knowledge base full of common issues and situations that you may come across such as refunds, installation, and more.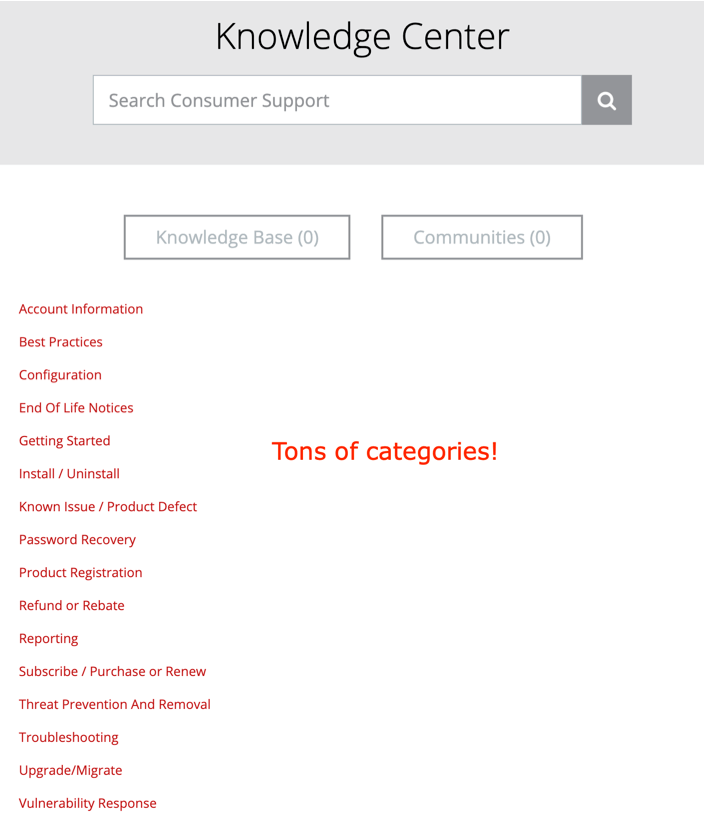 Then you have True Key's virtual assistant which answers nearly any question you can ask it. However, it doesn't answer them in a conversational way, rather it links you to different help articles that could answer your question. However, you should also note that these questions cover all McAfee products, rather than just True Key itself. This goes for all support avenues actually.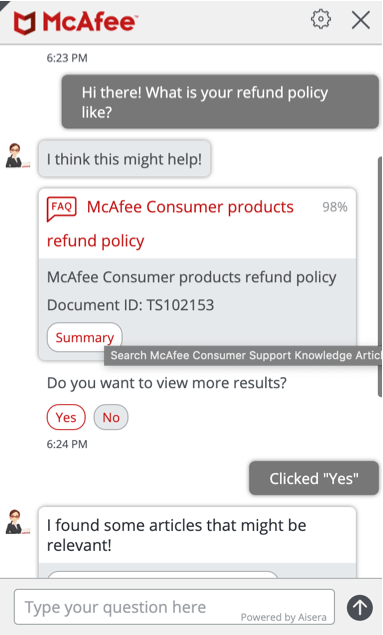 If the knowledge base or virtual assistant can't help you, there are the community forums that are specific to True Key. This forum has all sorts of information, and if you can't find an answer to your problem, you can simply ask about it. I asked them about the refund process there, however, and got a response that simply led to the bot telling me about relevant articles.
Then there is the direct assistance section, where you can choose your problem and have engage directly with an expert to help you out. If you select a direct call, for example, you'll be given a number to call after filling out your information, and a service request number that helps you speed the process along. You can also choose to contact them on Twitter, Facebook, or view helpful tutorial content on YouTube as well.